Revolutionize Your Recovery & Manage Lymphedema with our new Silverwave Seamless Armbands from Recova Post Surgery
15 April 2023 | Admin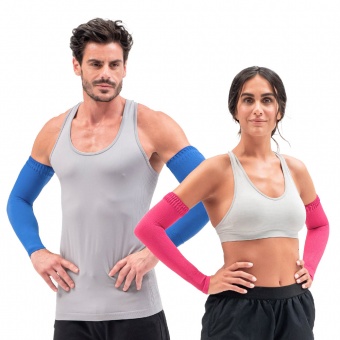 Are you seeking a solution for post-surgery recovery or lymphedema management in your arms? Look no further than RECOVA Compression's Silverwave Seamless Armbands. These expertly designed armbands offer exceptional quality, comfort, and support, making them the perfect choice for enhancing your recovery journey and managing lymphedema in the arms.
The Silverwave Seamless Armbands feature 15/21 mmHg decreasing graduated compression from the wrist to the arm. Made with OEKO-TEX certified materials, these armbands are gentle on the skin and safe to wear for extended periods.
What sets Solidea's Seamless Armbands apart is their innovative special wave fabric, which delivers a micro-massage effect to reactivate circulation, shape the body, and aid fluid elimination. This makes them perfect not only for post-surgery recovery but also for managing lymphedema in the arms.
Also ideal for sports activities, these armbands improve performance while conserving energy. The supportive flounce, crafted from a new generation of silicone elastomer, ensures a comfortable fit even on the most sensitive skin.
Infused with a mineral additive, the yarn transforms the body's natural thermal energy into Far Infrared Rays (FIR), providing a comfortable temperature-control effect. This action enhances the graduated compression function, promoting proper venous and lymphatic return, and effectively reducing edema.
These Silverwave Seamless Armbands are suitable for conservative treatment of post-trauma and iatrogenic lymphedema, making them an essential addition to your recovery and lymphedema management toolkit.
At Recova Compression, we're dedicated to providing the best support and solutions for your post-surgery recovery and lymphedema management needs. Our range of products, including the Micro-Massage Slimming compression sleeves and Seamless Armbands, ensures you have access to the latest innovations in compression therapy.
Shop Seamless Armbands and other post-surgery recovery products at www.recovapostsurgery.com and experience the difference these advanced compression solutions can make in your life. Don't let recovery or lymphedema hold you back - take control with the help of Recova Compression