The Healing Power of the Abdominal Compression Board from RECOVA
3 June 2023 | Admin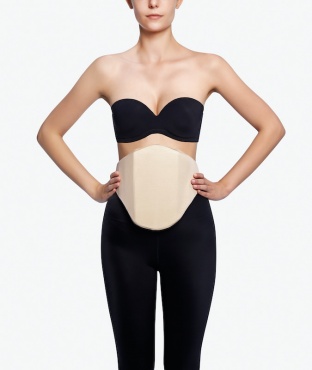 The pathway to recovery following cosmetic surgery, such as liposuction or a tummy tuck (abdominoplasty), is significantly influenced by the post-operative care tools you use. Among the most valuable tools to optimize the healing process is the Articulated UNISEX Abdominal Compression Board from RECOVA® Compression. Here's why this product is a game-changer in post-surgical care:
Promotes Optimal Alignment
The articulated UNISEX abdominal compression board keeps the abdomen area straight—a crucial factor for effective healing post-surgery. Thanks to its articulated sides, it comfortably adapts to your body, ensuring a secure fit underneath your compression garment.
Minimises 'Dead Space'
Post-operative 'dead space,' the gap between the skin and the underlying tissue that can fill with fluid, can impede the healing process. The abdominal compression board helps mitigate this issue, supporting faster healing by decreasing dead space.
Reduces Swelling and Seromas
Common post-operative symptoms like swelling and seromas (fluid-filled pockets) can be effectively managed with an abdominal compression board. It provides gentle, targeted pressure on the affected area, helping to minimize these side effects.
Accelerates the Healing Journey
By promoting correct alignment, minimizing dead space, and reducing swelling and seromas, the abdominal compression board significantly accelerates the healing process. This quickened recovery means you can seamlessly return to your daily activities post-surgery.
Offers Comfortable Skin Contact
The RECOVA abdominal compression board ensures utmost comfort with its foam lining and soft cotton cover, minimizing any discomfort or irritation while wearing it.
Operating the RECOVA abdominal compression board is straightforward. Simply position the board underneath the compression garment on the abdomen for optimal support and healing. Its dimensions (23cm in height and 34cm in length) make it suitable for a diverse range of body types.
Composed of a hypoallergenic cotton and elastane cover with PVC and foam inside, the RECOVA abdominal compression board is a highly recommended accessory for your post-surgery recovery.
In addition to the articulated abdominal compression board, RECOVA® also offers an array of other insert products like back boards and EPI-FOAM Pads to enhance post-surgery recovery, reduce swelling and inflammation, and improve comfort.