Experience the Game-Changer in Post-Operative Care: Biodermis Epi-foam™ Pads for Liposuction & Tummy Tucks
1 May 2023 | Admin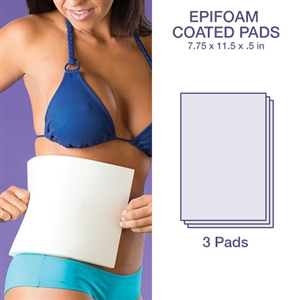 Recovering from liposuction or a tummy tuck procedure can be a challenging experience, but with the right post-operative care, you can significantly improve your comfort and healing process. Biodermis Epi-foam™ pads, also known as Lipofoams, are specifically designed to offer exceptional support and comfort during your recovery. In this blog post, we will explore the benefits and features of Epi-foam™ pads, available at Recova Post Surgery.
Epi-foam™ pads are made with medical-grade closed cell polyurethane foam and feature a gentle silicone-gel surface, which provides uniform compression distribution while minimizing folds and creases. This unique design helps reduce swelling, bruising, and discomfort, allowing you to return to your normal activities sooner.
Some of the key benefits of Epi-foam™ pads include:
Premier compression foam in the industry
Extra comfort under post-operative compression garments
Reduction of post-operative bruising and swelling
Uniform compression distribution
Minimises folds and creases
Easy to apply and shape to 3-dimensional contours
Latex-free silicone gel and polyurethane foam
Porous silicone-gel allows proper oxygen flow
Specifically designed for liposuction and body contouring procedures
Ideal for various body areas (pads can be cut to desired shape)
Recova Post Surgery offers high-quality Biodermis Epi-foam™ pads in packages containing three pads (19.7 x 29.2 x 1.3 cm / 7.75 x 11.5 x .5 in). These pads are easy to apply and can be used for 24 hours per day for an optimal treatment period of 5 to 7 days. Simply follow the provided instructions for use to achieve the best results.
The unique silicone-gel surface of Epi-foam™ pads provides a gentle adherent patient interface that helps avoid the problems associated with more aggressively adherent foam pads. This feature, combined with the pads' easy application and shaping to 3-dimensional contours, makes them the ideal choice for post-operative care after liposuction or tummy tuck procedures.
Discover the game-changing benefits of Biodermis Epi-foam™ pads for your post-operative care and enhance your recovery journey. Shop now at www.recovapostsurgery.com and experience the difference these advanced post-operative solutions can make in your life.